In-House Veterinary Care For Senior Pets Just Makes Sense.
In March of 2020, Young at Heart was just days away from launching our capital campaign for an in-house veterinary clinic for our senior pets when COVID-19 brought the world as we know it to a screeching halt. We pressed pause on our vet clinic plans then, as the timing no longer seemed right. We thought an in-house vet clinic was a need we could delay until the timing seemed more appropriate. Instead, we prepared for the influx of older pets soon to be homeless. Now, our adoption center is operating at full capacity, yet veterinary care for our senior pets is more complicated than ever to access.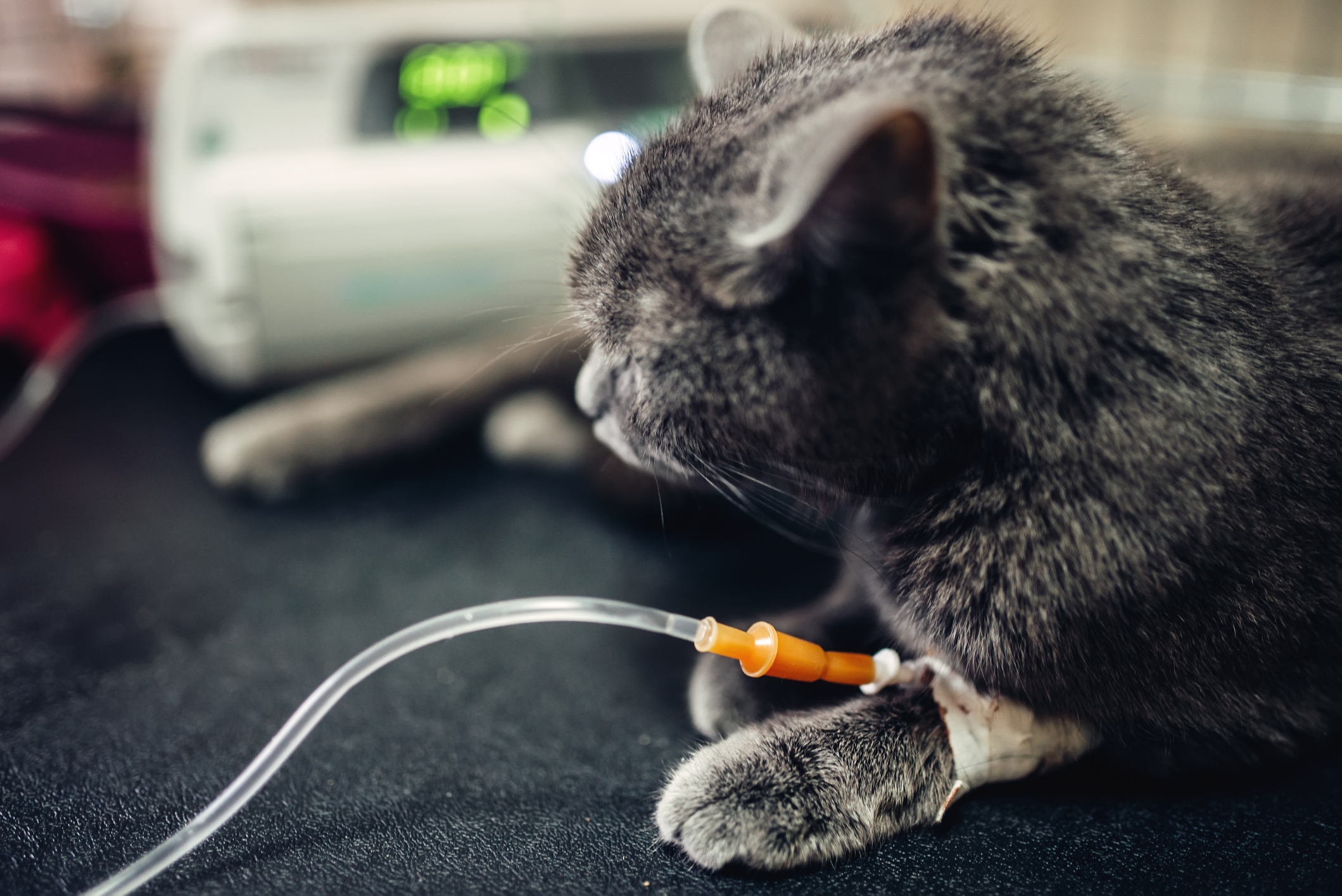 Why is in-house vet care necessary?
1. We can no longer easily access the veterinary care for our senior pets that we could pre-COVID. Many of the vet clinics in our network now have to prioritize full-paying clients, rationing the number of "rescue appointments" they offer each day due to a large increase in clientele from all the pets adopted while people were at home. Our senior pets end up waiting to see a vet, delaying much-needed medical care as well as adoptions. Several times now, we've had to visit the emergency vet for what a regular vet could take care of in normal times, just so one of our senior pets could see a vet quickly.
2. We currently spend over 40 hours a week just transporting our senior pets to and from vet appointments - sometimes more! It's inefficient for our staff and it's stressful on our senior pets. With the in-house vet clinic right across the parking lot from the adoption center, an infected ear or a limp can be checked out in minutes. No two-hour round trip vet visit, no waiting until a rescue appointment opens up. Because our vet clinic will not be open to the public, and will only be for Young at Heart's use, our senior pets can be seen "on-demand" and get the care and comfort they need immediately.
3. It sounds boring, but it's the fiscally responsible thing to do. Our veterinary network is wonderful to work with, and they discount the services they give us. But they can only discount those services so far as they have their own business expenses to cover. The senior pets we rescue have often been well-loved, but not well cared for medically, and we are often catching up on years of veterinary neglect. Getting them to a place of comfort and good health is so important to their well-being, but that often comes with a hefty price tag. A healthy senior dog that needs vaccines, bloodwork, and extensive dental can cost us over $1000 just to ready it for adoption. Throw in some X-rays or ultrasound and another round of bloodwork, multiply that by 50 senior pets each month, and the cost increases by leaps and bounds. And the cost of our permanent sanctuary pets with their complex medical needs is an open-ended expense. With our own vet clinic, we'll be able to control our veterinary expenses, stretching each donated dollar farther and allowing us to rescue more senior pets each year because of it.
It has become clear as day that the need for on-site veterinary care is greater than ever!
Coming Soon: The Foglia Senior Pet Veterinary Center!

For every day a rescued senior pet waits to see the vet, we lose a day that they could be comfortable. That they could be healthier. That they could be ready for adoption. We have so many senior pets in adoption limbo because they still need some minor veterinary care before going home, but we have to wait for open vet appointments just like everyone else. Unlike younger dogs and cats, we can't just give them some vaccines and a spay/neuter and send them on their way. They need dental cleanings, x-rays, lumps checked out, and many other diagnostics that allow us to ensure they are comfortable and healthy in their golden years. Senior pets can't wait any longer. We need to make an in-house veterinary clinic a reality. And the sooner, the better for all of them!
And so, we are incredibly excited to launch our campaign for an in-house veterinary center, on-site and just steps away from our adoption center in Woodstock, IL!

Now we need your help to make the in-house vet clinic a reality!
The vet clinic campaign consists of three phases:
1) The construction fund (CONSTRUCTION COMPLETED!)
2) The equipment fund (COMPLETED!)
3) The 3-year veterinary staff fund (ONGOING)


Help make on-site veterinary care a reality for homeless senior pets!

Make a donation Any size gift makes a difference!

Donations of $250 or more will be honored on the Wall of Hearts: $1000+ = Gold heart, $999-$500 = Silver Heart, $499-250 = Red Heart. Your name choice or message will be engraved on a heart and hung inside the vet clinic.
BRICK ORDERS REOPENED, BUT ONLY THROUGH JULY 1ST!


Please donate today to bring faster, dedicated in-house veterinary care to the senior pets at Young at Heart!
Ways to Donate
Your donation or pledge to Young at Heart's Vet Clinic Campaign can be made in any of the following ways:
Make a one-time donation by check — Complete and mail in the Vet Clinic Campaign Pledge Form along with your check.
Make a one-time donation by credit card — a) Donate online b) Complete and mail in the Vet Clinic Campaign Pledge Form c) Contact us at (815) 333-4001 to make your donation by phone.
Donate over a period of up to two years by check or credit card — Complete and mail in the Vet Clinic Campaign Pledge Form, indicating your desired schedule of payments, and include your first donation check or payment by credit card.
Donate stock— Donations of appreciated stock are a wonderful way to contribute to our vet clinic campaign, and it benefits both you and the animals! Young at Heart offers the following information for donors interested in making a gift of appreciated securities. You can find complete instructions on donating shares of stock HERE as well.
Brokerage Firm: Fidelity Investments
Contact: James Twigg, 847.995.0247 ext 59508
Name on Account: Young at Heart Pet Rescue
Account #: Z50397148
DTC#: 0226
Federal ID#: 20-2476194
Fidelity does not automatically notify us when transfers are made. We want to be sure to acknowledge your support in an accurate and timely way. Once the transfer is made, please notify: Young at Heart, 4301 S IL Route 47, Woodstock IL 60098 or email donate@adoptaseniorpet.com.


Where Do I Send My Gift?
Please send your donation to: Young at Heart, Attn: Vet Clinic Campaign, 4301 S IL Route 47, Woodstock IL 60098

How Do I Buy A Custom Brick?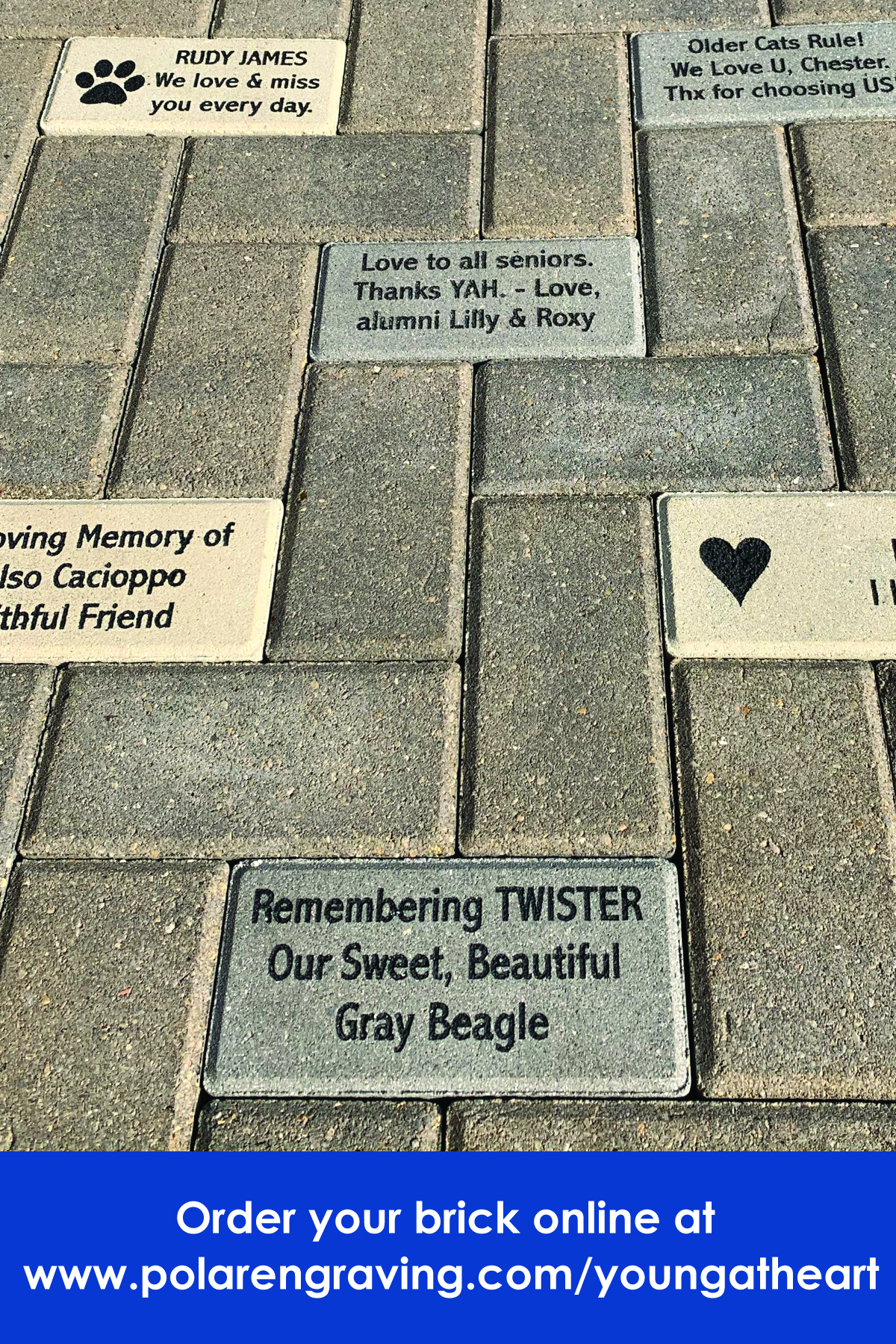 Visit our online brick ordering portal HERE! Brick orders closed JULY 1ST, 2022!


Increase Your Giving Through Matching Gifts!
Matching Gifts can be a significant source of support for nonprofit organizations like Young at Heart. If you work for (or have retired from) one of the many companies that generously match employee donations to nonprofit organizations, please don't miss this opportunity to double the value of your donation. Ask your employer for a Matching Gift form that you can fill out and send to us. We'll take it from there!
Still Have Questions?
Call us at 815-333-4001 or donate@adoptaseniorpet.com with any questions about your gift to the vet clinic campaign.