Aristotle
Breed

Brown Tabby

Gender

Male

Age

11 years

Declawed

No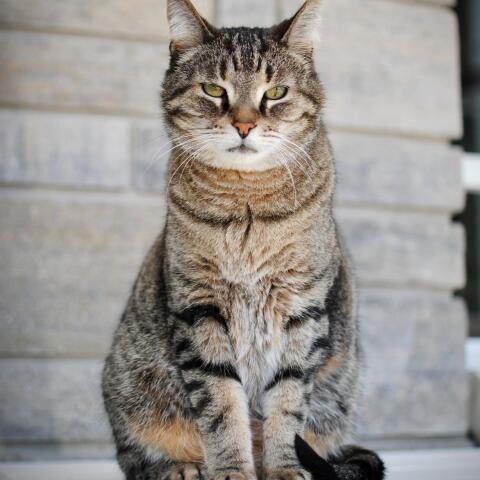 ANIMAL COMPATIBILITY: Cats OK / Dogs TBD

KID COMPATIBILITY: All ages

ENERGY LEVEL: Medium 

SPECIAL NEEDS: None

My name is Aristotle, just like the ancient Greek philosopher. And that's not the only thing we have in common. During my time as a stray I had also travelled far and wide, constantly educating myself on the new things I experienced. It was a busy time of my life; I was always on the hunt for knowledge or food or a quick head rub from a kind passerby. Now that I've been rescued, I desire a more leisurely approach to life. 

For my golden years, I envision multiple cozy beds spread across the home for my choosing, plenty of windows to let in the warm sun while I bird-watch, and - of course - an array of delectable snacks. After my time on the streets, I can't wait to be doted on, and to dote on my people in return! I am a lover, for sure. While you'll likely find me lost in deep thought, as soon as I hear your entrance, my focus and attention is on you. Whether you want to relax the evening away or run around the house for play-time, I am all about it. I am an astute, little man, and I have started to really enjoy the challenge of different DIY puzzles the staff has provided. I tolerate other cats, and I tolerate them even more when those cats like keeping to themselves for the most part. I'm definitely more so a cat for the people! 

The real question is… Are you the person for me? Fill out an app today and let's make a match!