Davenport
Breed

Grey and White

Gender

Male

Age

7 years

Declawed

No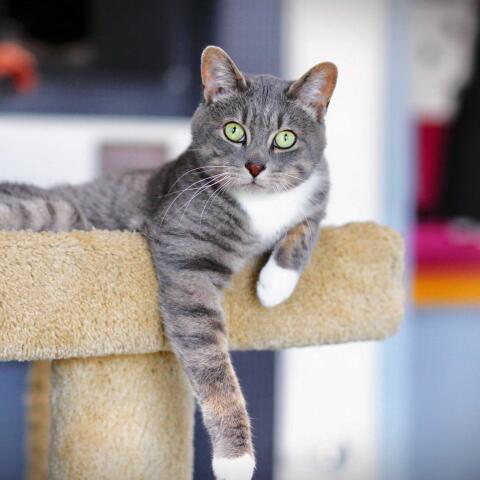 DAVENPORT

Breed: DSH, Dilute Tortie
Gender: Male neutered
Age: 7 years
Declawed: No


Hiya there, potential adopter! My name is Davenport. Yes, just like the old-timey word for couch. I am also lovingly referred to as "Davie" or "Dav," but never "Port." While I'm named after a couch, we do not share many characteristics. I am the furthest thing from a couch potato, too. At the ripe age of 7 years old, I am not quite a senior, but I am approaching my golden years in great health! Unlike some of my older friends at the adoption center, I happily spend most of my time playing or looking for mischief. Catnip toys, mouse toys, wand toys - I love them all. Even when you're not in the room, I can keep myself entertained. Just me and my toy box. While playful, there is also a calm side to me. After a play session, I would love to join you for some relaxing cuddles, or you can find me lying about, seeing what's going on in the world outside the windows. I am very shy and scared in new situations, but I warm up to people quite quickly. Other cats take me a little longer to get used to. I merely tolerate my roommates, but I would prefer to be the only cat in my own home. When I am stressed by my roommates, my litter box manners aren't the best, and I tend to urinate outside of the box. A high-sided, covered litter box and a calm environment are a must in order to curb this unsatisfactory behavior of mine, and staff also thinks the elimination of other cats in the home would help immensely. All in all, I'm a pretty neat cat. I'm pretty, playful, and polite, and I know when given a chance, I would shine in a home with my very own family.