Georgia
Breed

Tobie

Gender

Female

Age

7 years

Declawed

No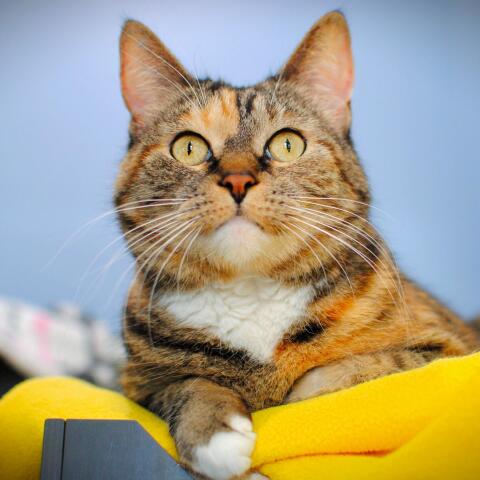 ANIMAL COMPATIBILITY: Cats OK / Dogs TBD

KID COMPATIBILITY: All ages

ENERGY LEVEL: Medium 

SPECIAL NEEDS: Prescription urinary diet (Royal Canin Urinary SO)

Well, how do you do? I'm Georgia, and I am delighted to make your acquaintance. I am a kind, loyal, and gentle Southern belle fixin' to find my forever home. I do try not to brag or boast, but I also reckon honesty is the best policy. And, the truth is that my sweet demeanor could charm the morning dew right off the honeysuckle! 

Like any good Georgia Peach, I am polite & welcoming with all of those I meet - human or cat. (Haven't met any dogs yet!) It would go against my Southern hospitality to be anything but. My joy comes from making people feel good. That's why you'll likely find me perched on a loving lap or nuzzled in the neck of a nice lady or fella. Cuddling is the name of my game, and everyone's a winner. When left to my own devices, I entertain myself with some toys or treat puzzles. (I'm not just a pretty face, after all!) 

I'm in real good health apart from some bladder stones which are maintained by my special diet, and I prefer a high-sided or covered litter box. A lady needs her privacy! Otherwise, I don't expect much or ask for much, other than your tender lovin' and gentle affections. 

Whadd'ya say? Reckon a little lady like me will fit into your family? Fill out an application and find out!