Ingrid
Breed

Calico

Gender

Female

Age

11 years

Declawed

No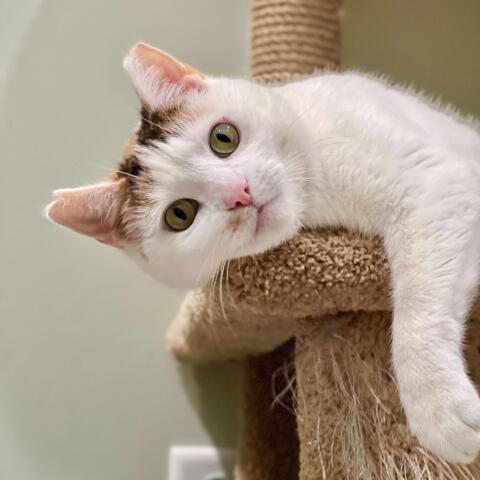 ANIMAL COMPATIBILITY: Cats OK / Dogs TBD*
KID COMPATIBILITY: All ages
ENERGY LEVEL: Low to Medium - Can get playful
SPECIAL NEEDS: N/A

Ingrid is a name of Norse origin meaning "beautiful." While my white coat is striking and my citron eyes are radiant, I like to think that my beauty is not just physical, but all-encompassing. I am a smart and inquisitive girl, always trying to make sense of the world around me. Whether it be a new toy, new places, or new experiences, I like to take the time to observe carefully before diving right in. That's not to say I'm afraid of new people. No, it's quite the opposite - I'm very interested. I want to get to know you well, so I am pretty social from the get-go, testing out your head-rub abilities or asking for play-time. I am okay with other cats so long as they are okay with me, but you won't see me yearning for their company. I am an independent girl. If I am not snoozing or exploring, I do like to play with wand toys or my interactive butterfly, and I quite like being able to safely venture outside on the catios or another secured outdoor space.

See, while I am certainly a pretty kitty, I think the sum of all my parts is what makes me truly beautiful. But, to know for sure, I think you should fill out an application to see for yourself!