Spice
Breed

Brown Tabby/White

Gender

Female

Age

13 years

Declawed

No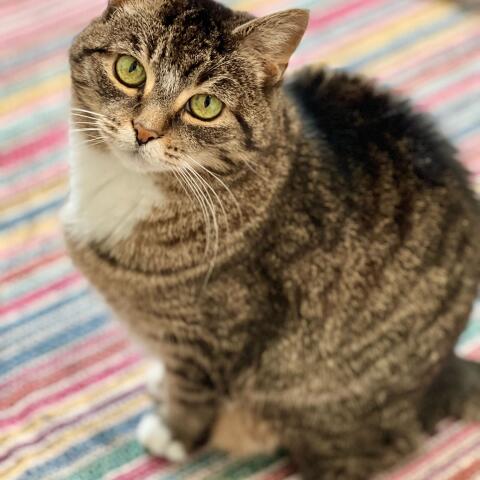 AGE: 13 years
BREED: DSH - Brown Tabby/White

DECLAWED: No

ANIMAL COMPATIBILITY: Only pet household

KID COMPATIBILITY: Older kids (8+)



My name is Spice, and I am thriving at 13 years old. While my name says otherwise, I am more sweet than spicy. I have a pretty timid nature. I seek out my safe spots and once I find them, I sit back and observe my surroundings closely. One could call me a careful, calculated cat. I have learned to be on guard at all times, especially when there are other cats or animals in the household. A home free of tiny humans and no other dogs or cats would be ideal. That way my family can get to see the real me, and not the version of me that feels the need to protect myself 24/7. When I am in a room/house to myself, my sweetness is allowed to shine. I'll sit at attention, waiting for my people to approach me with pets, or I'll even prowl up to them instead of sticking to my safe places! I love scratches in between my ears and around my neck, and once in a blue moon, I feel inclined to entertain humans with some play. I use my litter box like a pro, and when it comes to eating, I have a particular palette. Soft mousse textures are my fave! I'm a shy wallflower at heart, so I do enjoy taking long naps in my hidden beds throughout the day. That doesn't mean I'm not down for a good snuggle when the time calls for it! I'm the kind of cat who will reveal my true self the more I spend time with my family, and you'll grow to love me more and more as time goes on. It'll take understanding and patience, but I know there are lots of loving, patient people out there. The right ones for me will come - do you think it could be you? Fill out an application!