Tink
Breed

Brown Tabby

Gender

Female

Age

16 years

Declawed

No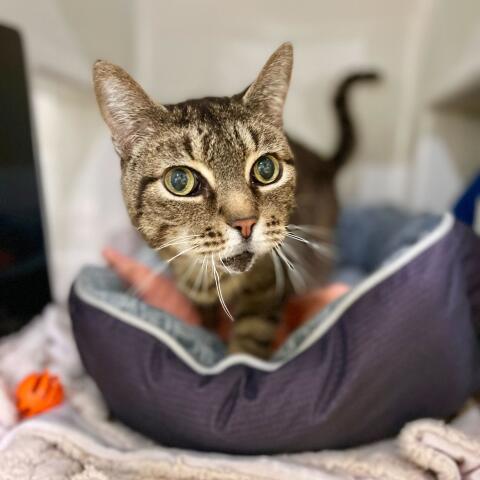 DECLAWED: No

ANIMAL COMPATIBILITY: Cats OK / Dogs TBD
KID COMPATIBILITY: Older kids (8+)

ENERGY LEVEL: Low - likes a lot of quiet downtime, will play occasionally




Oi, what're you lookin' at? Do I have something on my- Oh, you're interested in adopting me? Well, why didn't you say so!? I would have groomed up a little if I'd known. 

In case you haven't figured it out, my name is Tink. I am a no-nonsense old gal with a smoker's meow and a sweet demeanor. I've seen a lot in my 16 years, so I have lots to offer in terms of opinion and wisdom (often unsolicited). Don't get me started unless you wanna gossip the rest of the afternoon; I'm known to be a chatty gal. I'd love nothing more than to have a couple of besties to cuddle up with on the couch, sharing stories and acts of affection. But all that gabbing sure does make a girl tired, so I spend a lot of my time snoozing, too. Whether my besties will be people or another easy-going, quiet kitty, I don't mind. I get along with both pretty well, but I am definitely a people cat. 

A relaxed, quiet home is what I'm looking for in my golden years. I can't do none of that running around I used to; I just want a paradise of gentle pets of pâté. How does that sound to you? Good? Then, what're you waiting for? Fill out an application so we can set up an appointment for you to come say hey!