Philomena 10.15.21
Breed

Am Staff/Lab mix

Gender

Female

Age

10 years old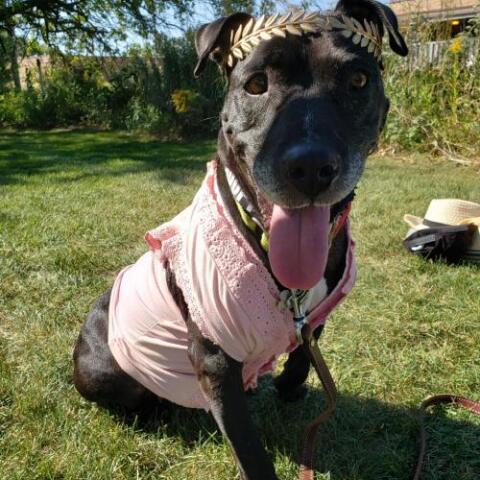 Woo-hoo! Are you looking for a loving, loyal, easy-going companion? That's me, Philomena, also known as Philly. I'm a really sweet girl, and I'll lean right into you for affection when we first meet. I've got the cutest little perky ears, a beautiful greying muzzle, and my short, shiny black coat is velvety soft. Things I love: treats, nose work, puzzles, comfy beds, bones, walks, pets, and you. I'm a gentle old soul, but I'm still young at heart and can be strong on a leash. I'll admit that my vision isn't what it used to be due to my cataracts, but that won't stop me from doing the things I love, like taking walks with you or going to the park to hang out together and watch the birds and squirrels. Quite frankly, my years of wild adventure are behind me, so I'm dreaming of a quiet, forever home to live out my golden years with my special person. I can't wait to put my head in your lap, relax, and just snuggle. Are you the one for me? I'm here, waiting patiently for you.
Adoption Information:
Size: Medium/large 52 lbs.
Children: Older/Teens.
Dogs: No.
Cats: No.
Adoption Fee: $100.
Philomena's profile can be found at this link.
This dog is spayed and micro-chipped and has had a full veterinary checkup and vaccines.
If you are interested in more information or would like to meet this dog, please fill out our online adoption survey:
carenorthshore.org/dog-adoption-survey