Chedda
Breed

Minpin Mix

Age

20 years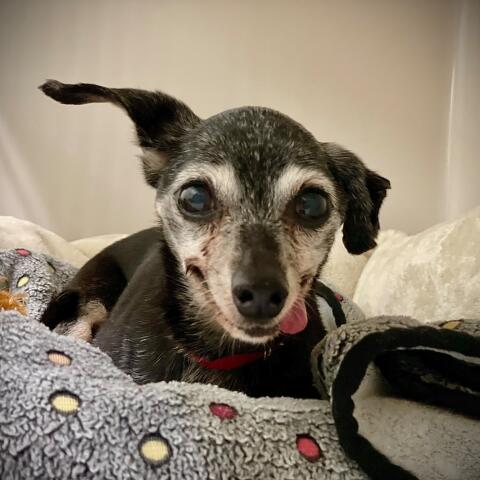 BREED: Minpin Mix
GENDER: Female spayed
AGE: 20 years
WEIGHT: ~12 lbs
HOUSE-TRAINED: Piddle Pad Trained
ANIMAL COMPATIBILITY: Dogs same size and mellow OK/ Cats NO
KID COMPATIBILITY: Adults only
ENERGY LEVEL: Low - loves to go for little leash walk and stroller walks, and likes to chill

Hi there! I'm Chedda, and I'm aged to perfection! I am an adorable and hilarious 20 year old minpin mix. I ended up in the shelter system when my guardian could no longer physically care for me, and thankfully was rescued by Young at Heart! I make every laugh every day with my silly antics. I was a spitfire in my heyday, if I do say so myself, and I don't know that I'm 20 years old now either! I get along with dogs my size who are calm companions. At my age, I don't want to wrestle or play hard, but I do enjoy a good romp and trot through the yard! I am most active in the morning, where I look like a little bucking bronco as I cavort with happiness. At my age, you can imagine I have a bit of arthritis, so there's not much bend to my legs these days. So I'll trot off more like a penquin than a dog, but it doesn't slow me down. I have no qualms about telling a bigger dog that I am in charge! Any kitty is my arch nemesis, so no kitties for me! I am pretty good about using my piddle pads, but I may occasionally miss at my age. I do my potty business outside as well. I love to go for short walkies around the neighborhood, and enjoy going for longer rides in my doggy stroller, too. And I get very excited about dinner time, even though I don't have any teeth left - canned food makes me happy! I am just an adorable funny girl who still has a zest for life. I would love a home to love me silly for the rest of my life - is that you?