CocoJellybean
Breed

Pit Bull mix

Gender

Female

Age

8 years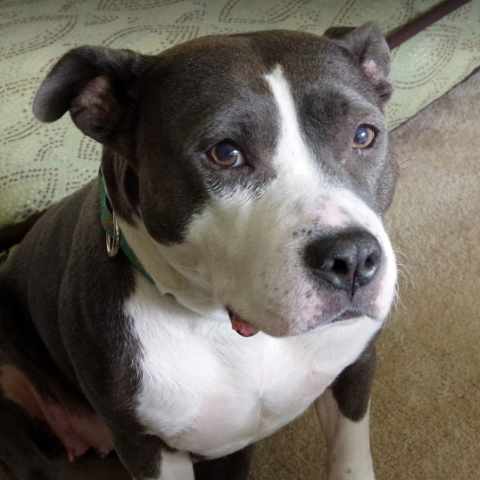 BREED: Pit Bull mix
GENDER: Female spayed
AGE: 8 years
HOUSETRAINED: Yes
ANIMAL COMPATIBILITY: Dogs NO/Cats NO
KID COMPATIBILITY: Adult home, older teens OK
ENERGY LEVEL: Medium; love to play and walk, but love to chill too

Hi! My name is Coco Jellybean and I am as sweet as my name implies! I'm 8 years old and in excellent health. The cherry on top? I'm also 100% house-trained. When I'm in the house, I'm very mellow and you can usually find me curled up on the couch – just waiting for you to sit down and snuggle with me. When I'm outside, I love to run and play, fetch the ball, tug on ropes, and romp around the yard. I do enjoy walks and I do well on the leash when it's just me and my foster Dad. But, when I see another dog headed my way, I have a tendency to pull and I'm very strong! We do continue to work on my leash manners! I'm a smart girl, and am getting better and better. My ideal home would be one with an experienced dog person and one where I can be the four-legged queen of the castle - no other dogs or cats or other critters, please. I'm a great excuse to get a great dog but you can't get talked into a second one! Ha! I'm such a wonderful girl, I just don't want to share my space or my toys. I want them all to myself! I just know I would be such a great addition to someone's family. Could you be the one?