Cody
Breed

Lhasa/Maltese

Gender

Male

Age

14 years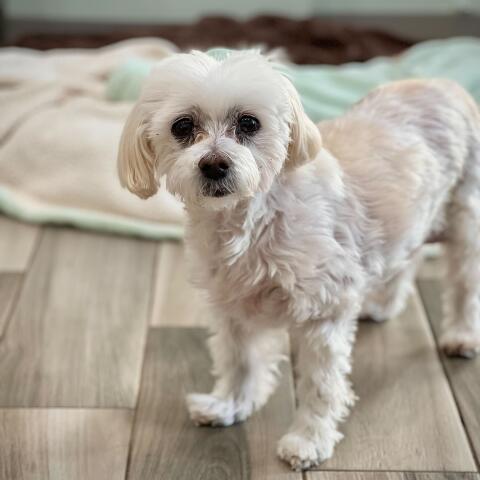 BREED: Lhasa/Maltese Mix
GENDER: Male Neutered
AGE: 14 yrs
WEIGHT: 12 lbs
HOUSE-TRAINED: Piddle Pad Trained
ANIMAL COMPATIBILITY: Small dogs OK / Large dogs UNSURE / Cats UNSURE
KID COMPATIBILITY: All ages
ENERGY LEVEL: Low - a lazy little dude who likes to nap

How's it hanging? I'm Cody. I am an adorable 14 year old Lhasa/Maltese mix with a rather laid-back attitude. My goal in my golden years is to just chill and enjoy the good vibes. I prefer an environment with other laid back dogs and people, as I am not really a fan of hustle and bustle. Wild, high-energy dogs aren't really my thing, but another cool doggy dude or dudette who likes to vibe is more my wavelength. I get along with all people of all ages, so long as my space and boundaries are respected. My favorite way to spend the day is to find the biggest, comfiest bed with the warmest blankets and snooze to my heart's content. I would not mind a trot around the neighborhood, but one walk a day is good enough for me. I'm usually wiped for the rest of the afternoon after my daily walk on the trails! As for housetraining, I am piddle-pad trained and do really well with peeing on the pads you put down for me once I know where they're at. I will poop on them, too, but do prefer to poop outside. I love love love attention, and am a social butterfly when meeting new people. I've enjoyed trips to the local coffee shop and wine shop on my field trips here at Young at Heart, and always love meeting new people. I'm also a good boy in the car, making an excellent co-pilot. I'm really a very sweet boy that just needs someone to spoil me silly. I know my people are out there somewhere, and I'll be patiently waiting for the day I get to meet them. I would love to share my heart with you, so I hope you are interested in meeting me!