Gordon & Tommy
Breed

Hound mix

Age

9 years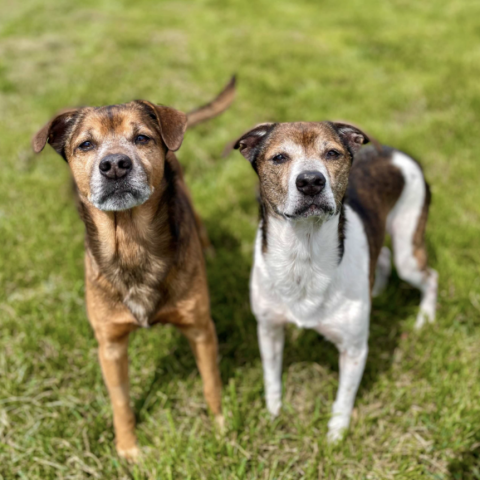 BREED: Hound Mixes
GENDER: Males, neutered
AGE: 9 years
HOUSE-TRAINED: Work in progress - Constantly improving with the use of belly bands & pee pads
ANIMAL COMPATIBILITY: Cats NO / Dogs NOT SURE
KID COMPATIBILITY: Adult home only
ENERGY LEVEL: Active, love to run/play/go for walks, but also love lap time

Oi! Alright, mate!? How's it going? Our names are Gordon and Thomas aka Tommy (just like the trains from that popular kid's show), and we are two super handsome Hound mixes. We chugged along to Young at Heart all the way from Florida after our elderly guardian passed. It is clear that we love people, even though we are shy at first. We aren't too keen on men in particular, and we'd likely need a little more adjustment time with one in our home. Once we can easily recognize your friendly face and scents, we are the sweetest and most loyal boys. Gordon is a healthy young man, and Tommy has a cancerous ear mass that simply requires monitoring. We sit obediently, always at attention while the staff prepares our meals, and we learn routines well. Like so many other siblings before us, we argue. Occasionally, we'll get annoyed with one another out of the blue, but in a few short moments, we are back to business as usual. What else are siblings good for? Being hounds, we allow our noses to be our guide as we happily run around and explore our yard. Other than an inability to walk in a straight line, we are amazing walkers and enjoy our daily strolls! We are easily overwhelmed by other dogs, so a home with just the two of us would be ideal. We are sooo excited to get a whole new life here in Illinois. We can't wait for the day we get to scamper into our own backyard, soaking up the sun and the love from our very own family. If that sounds good to you, it sounds good to us - fill out an application soon!