Kinsey
Breed

Terrier Mix

Gender

Female

Age

10 years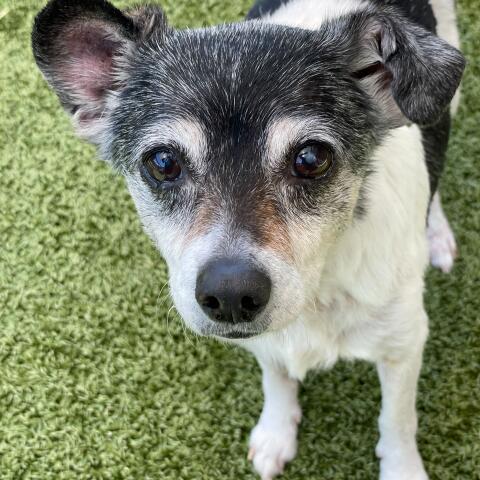 BREED: Terrier Mix
GENDER: Female (spayed)
AGE: 10 years
WEIGHT: 15-ish lbs.
HOUSE-TRAINED: Yes
ANIMAL COMPATIBILITY: Laid-back dogs ok
KID COMPATIBILITY: Kids 12+
ENERGY LEVEL: A pretty relaxed girl, likes short walks and outings in a dog stroller

Hi there! I'm Kinsey, a very sweet girl who lost her way and no one ever came looking for me. Thankfully I was able to come to Young at Heart, where I was treated for a yucky skin infection and got a much-needed dental. And now I'm feeling SO much better and ready for the next chapter of my life! Maybe it's with you! I'm such a sweetheart who loves a good massage and lots of love. I was a bit worried when I first came here and showed that it may take me a bit of time to feel comfortable with a new roomie if you have another dog. But now I am content to hang out with the other senior pups here, and even try to get some to play with me from time to time. But I'm also perfectly content by myself. I love to go for little strolls and even like going for rides in the doggy stroller in downtown Woodstock! I just want to spend my golden years being wrapped up in the loving arms of someone who knows what a good girl I am. Is it you?