Loki
Breed

Norwich/Yorkie

Gender

Male

Age

10 years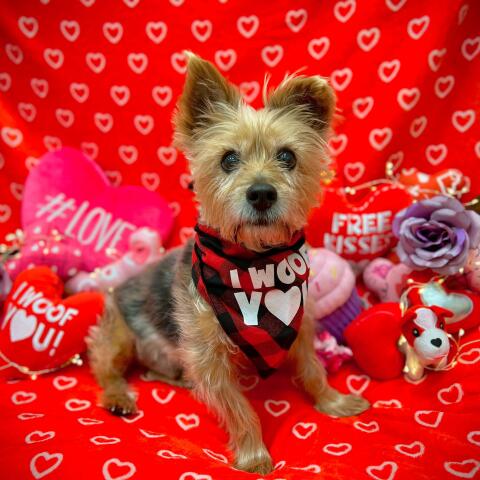 *QUALIFIES FOR OUR SANCTUARY PROGRAM FOR ADOPTERS IN THE WOODSTOCK, IL AREA

BREED: Norwich/Yorkie Mix

GENDER: Male Neutered
AGE: 10 years

HOUSE-TRAINED: Somewhat. Working on piddle pad training / Uses belly bands

ANIMAL COMPATIBILITY: NEEDS TO BE ONLY PET

KID COMPATIBILITY: Adults only as he guards high value items. 

ENERGY LEVEL: Medium - He is energetic & enjoys "zoomies"/walks, but also takes it upon himself to rest. 

SPECIAL NEEDS: Requires sub-q fluids, supplements, and prescription food for stage III Chronic Renal Disease.

My name is Loki, and I am arguably the cutest mother pupper around these parts! I am looking for my paw-fect match. So, what do you need to know about me?

1) I'm adorable. 

2) I'll go for walks with you any time, anywhere. 
I love love love to explore!
3) I like booty scritches. You scratch mine, I'll scratch yours. Never mind. Just scratch mine! 

4) I'm adorable!
5) I'll always make you feel special with a happy dance or a tail wag whenever I see you. 

6) I can be a great cuddler with the proper motivations (AKA invite me on your lap).

7) Not feeling up to doing much one day? No problem. I can take a nap like no other. 


The list could go on and on, but I don't want to seem too big for my britches. I really am just a humble senior looking for that special someone to spend the rest of my life with. Now, a home where I can be the only pet is a must for me. I am a terrier, through and through. I think I'm the boss of everything. I DO get a little big for my britches at times. I can't help it. The terrier in me just sneaks out sometimes. But I am so snuggly and loving and sweet when it's just you and me. That's why I am not fond of sharing my space with other animals. I'm a people dog. I am a sweet, loving boy who wants my very own family to pour all my affections into. Whenever you have a rough day, you can count on me to make you feel better. We'll sit on the couch together and watch our favorite programs, or we can settle down with a good book. So, come on, what do you say? Doggone it, will you be the love of my life?

*Loki is available to a special adopter within 150 miles of Woodstock IL who will continue on with his care OR he also qualifies for our Sanctuary Program. Young at Heart's Sanctuary Program is our permanent foster program for senior pets with complex medical needs. Our Sanctuary Homes are our beloved partners in providing the highest quality and individualized care to our special needs senior pets. Young at Heart provides all the veterinary care, prescription food, and medical supplies for life, while Loki's Sanctuary Home would provide him with all the care, love, and chauffeuring back and forth to vet appointments in Woodstock IL for life.