Missy & Holly
Breed

Chihuahua

Gender

Female

Age

9 years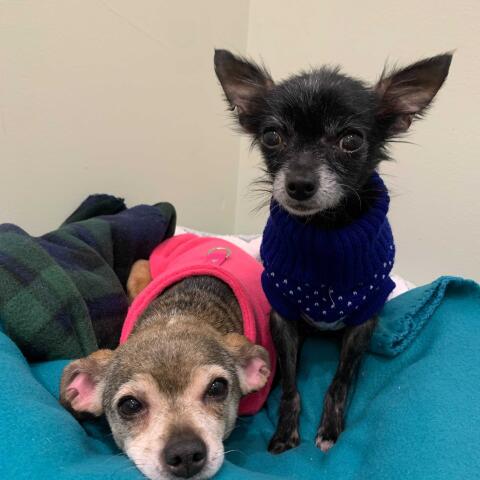 BREED: Chihuahua
GENDER: Female spayed
AGE: 9 years
HOUSETRAINED: Usually yes, piddlepad trained
ANIMAL COMPATIBILITY: Small dogs OK/ Cats Unknown
KID COMPATIBILITY: Older kids 12+, adult home preferred
ENERGY LEVEL: Medium, likes walks/play, but snuggle time too
NOISE LEVEL: Alarm barkers - shared walls not recommended.

Hey there, new friends! We are goofy 9 year-old chihuahuas, Missy and Holly, and we have brought you good tidings - we are available for adoption!! The teeny black chihuahua is Missy (short for Misteltoe!), and the bigger chihuahua is Holly. We arrived at Young at Heart just in the nick of time for Christmas, but we had lots of work to do. The two of us were found together as strays, both with cases of dermatitis and horribly icky mouths. Nothing a couple weeks of medicated baths and dentals couldn't fix! We both lost many teeth (Missy lost ALL), so we are on a canned-food-only diet, which we eat up like pigs. We always try to go outside to go potty, but we are also mostly successful potty-pad users. The consistency and routine of a home will help our occasional accidents. Both of us get along smashingly with other dogs! We LOVE to spend our days curling up in warm beds with our canine housemates, and absolutely nothing beats the feeling we get when we're piled up on someone's lap, taking in all the love. Seeing how much we adore spending time with our people, we would prefer a home where someone is home more often than not. Holly is the shy one of the two of us, and worries with loud noises and activity, so she watches Missy for cues as to whether or not she's okay. A quieter adult home would be the best fit for us, and we can't wait to share our love! Because what's better than one adorable chihuahua who LOVES snuggles? TWO of them!
*Adoption fee: $300 for the pair.