Morty
Breed

Lab mix

Gender

Male

Age

9 years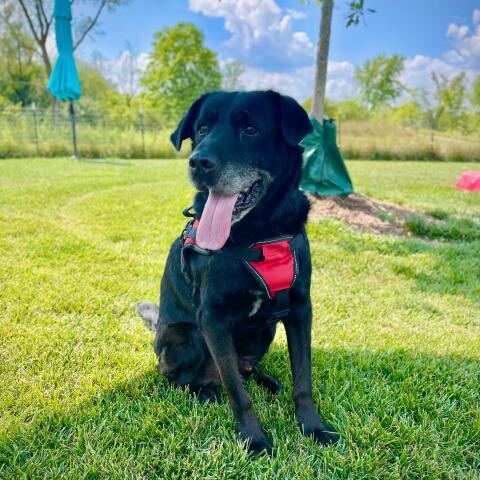 BREED: Labrador mix
GENDER: Male (neutered)
AGE: 9 yrs
WEIGHT: ~50 lbs
HOUSE-TRAINED: Yes
ANIMAL COMPATIBILITY: Calm dogs his size OK, NO smaller dogs or cats
KID COMPATIBILITY: Adults only in-home; visiting kids just fine
ENERGY LEVEL: Low, enjoys snuggles and belly rubs, walks are very short

HEY THERE!! It's Morty here, on the scene at Young at Heart where the good news has just been announced: I am officially ready for adoption! It's a holiday miracle! Well, it's maybe not so much a miracle as it is a result of the dedicated work of our vets, staff, and supporters. When I hitched a ride to the adoption center back in March 2021, I was a happy, happy boy who wanted to roll around in the grass, lie in laps, & run around the yard. Unfortunately, running wasn't an option. Both of my hips were in a sorry state, especially considering I was only 9 years old, but you can't control bad biology. Instead, the staff and I focused on what we could control, and my long road to a more comfortable life began.
The first step was surgery. I went under the knife for my first femoral head ostectomy (FHO) in April to restore pain-free mobility in my hips. After weeks of recovery, cold-laser & water treadmill therapy, I was ready for the second FHO by August. While I have recovered well from both surgeries, I am still in the rehabilitation stage. I'm not going to run any marathons any time soon (well, let's be real - or ever!). I work every day to build up strength in my hips & back legs, as I am used to relying on my front legs to carry all my weight. That's exactly why I am a candidate for a very special foster-to-adopt situation! I'm searching for family around the Woodstock IL area that is open to doing what it takes to make my golden years the best they can be. Ideally, my new family would be willing to foster me as I continue my physical therapy and rehabilitation through Young at Heart. I know that can be a lot to ask, but I believe anything is possible - you just have to put yourself out there! If there is a dedicated lab-lover beyond the Woodstock area who can't resist welcoming a goofy boy into their home, I am not counting you out! Whoever my new family may be, I promise to make everything worth your while.

Pure love and joy run through my veins and keep a big grin on my face. I'm at my happiest at my people's sides, so my ideal home is with someone who is home a lot. Like most big dogs, I'm convinced I'm the perfect size for laps. I love plopping down for belly rubs, or just to be silly & squirmy while I scratch my itches. Sure, I have my grumpy moments, but I am an old man after all. I've earned my right to complain when I see fit. But my grumpy old man side means I'm best suited for a home without kids or overzealous dogs. After all, a special needs pup like me needs a place he feels the comfiest. I seem to be a bit too chompy with smaller animals, so no smaller dogs or cats. As grateful as I am for Young at Heart, it's my time to move on. There are bigger & better things out there for me, I just know it. If you asked me what it is I'm best at, I would say that loving is what I do best! I love people, I love basking in the sun, I love treats, I love people, I love belly rubs, I love getting brushed, I love people, & I love car rides! Wait - did I remember to say I LOVE people!? I just love to love. I am BURSTING at the seams with the stuff!
-
Morty is available for a special foster-to-adopt situation through Young at Heart, located in Woodstock IL. Preference is given to those in the Woodstock IL area so that Morty can continue his rehab with Young at Heart during the fostering phase. However, if you're within the Chicagoland area and you have the ability to give Morty the post-operative care he needs, we'd love to chat with you, too! Let's chat!