Ollie
Breed

Terrier Mix

Age

7 years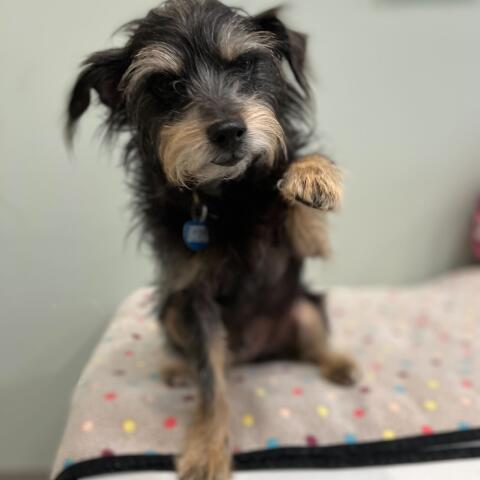 BREED: Terrier Mix
GENDER: Male (neutered)
AGE: 7 years
WEIGHT: 15-ish lbs.
HOUSE-TRAINED: Yes; may need belly band in new situations
ANIMAL COMPATIBILITY: Laid-back dogs ok, prefers his own space for food & treats. High prey-drive.
KID COMPATIBILITY: Kids 12+
ENERGY LEVEL: Just right - calm inside, ready for walks outside.

Hi there! I'm Ollie, pretty much the cutest little dude you'll meet this week. I adore my people and cannot wait to snuggle with a person of my own again! I am about 7-8 years old, and my breed is some sort of cute scruffymuffin terrier mix. I have the most expressive eyebrows that will crack you up. I am very smart boy! I know sit and down. I love going for walks, sunbathing, and PEOPLE! I am fairly tolerant of other dogs, but ideally, I enjoy my own space. I don't really like it when dogs get up in my grill, nor do I like it when they get near my food or treats, so if you'd like me to join another dog in your home, you'll need to be cool with giving me my own space for meal time. I'm very eager to learn, and love treat training, so I can learn a lot more tricks if you work with me! I love to go for walks, hang out with you, and even find it amusing when you shape the hair on the top of my head into a mohawk. I'm a cute little guy who is going to adore having my own person or persons, and I hope that is sooner rather than later! Maybe you're my new family?