Paisley
Breed

Peke-a-tzu

Gender

Female

Age

8 years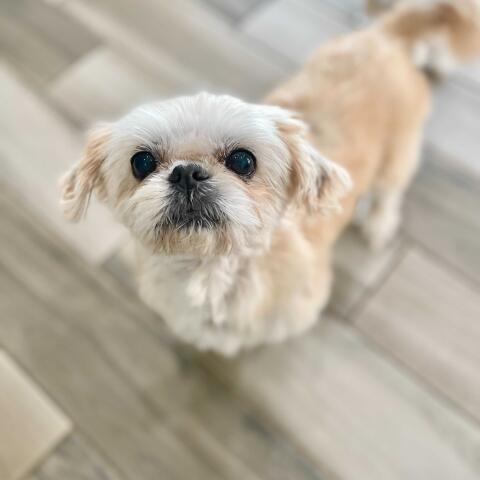 BREED: Peke-a-Tzu
GENDER: Female (Spayed)
AGE: 8 yrs
WEIGHT: 12 lbs
HOUSE-TRAINED: Piddle-pad trained
ANIMAL COMPATIBILITY: Small dogs OK / Large dogs TBD / Cats TBD
KID COMPATIBILITY: Ages 12+
ENERGY LEVEL: High - always looking for something to do/play with, gets the "zoomies"



Hey-o! I am Paisley, a darling 8-year-old Pekingese/Shih-Tzu mix who runs the roost. Or, so I like to think. It's obvious that I am a cutie pie. I know it, and I use it to make demands of my people and dog companions. Some call me sassy, and y'know what? I am proud of it! In my younger "old" age, I still have lots of energy. I love to play with all kinds of toys: from nibbling on small, squeaky ones to thrashing around giant teddy bears. I have an affinity for interior design, and I'm known to drag a pillow or bed around the house to find the perfect spot. I still have lots of "zoomies" in me, and I try to rile up my roommates to play with me. While I get along well with other dogs my size, I will do best with a happy-go-lucky pup that really loves to play, so another playful pup would be ideal in my future household. I LOVE to get dressed up in my harness & go for "walks." (The quotation marks are there because I technically RUN most of the time). As much as I love to stay active, I do appreciate snuggle time on the couch. I'll never say no to a relaxing shoulder massage! I can be a little grumpy when I'm annoyed, so a home with older kids who can read/learn my body language would be best. I am piddle-pad trained, but I still have the occasional accident. It will be much easier when I'm on a schedule at your home and not distracted by so many other dogs, but I may regress at first. Consistency is key! I'm eager to please and love love love life, and am looking forward to joining a family that will love me for the rest of my life. Overall, I am a cute, cuddly, and cheerful little girl who would bring laughter and light to your home. I'm so excited to meet my potential forever family. Is it going to be you?