Rami
Breed

Chihuahua

Gender

Male

Age

8 years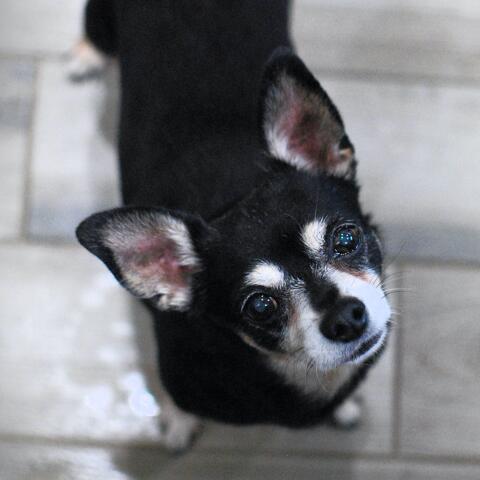 HOUSETRAINED: Seems to be
ANIMAL COMPATIBILITY: Typical bossypants chi, prefers to be the only pet

KID COMPATIBILITY: Adult home only
ENERGY LEVEL: Medium 

SPECIAL NEEDS: Can be extra spicy when he doesn't like something

Hola! I'm Ramirez or, as my amigos call me, Rami for short. I am an adorable and very fun little guy. I love love love to play fetch and play with my toys, and am as cute as a button. However, for those true Chihuahua fans out there, I can also be a little "spicy" when I want to be. True to the Legend of Chihuahuas, I can be quite the little landshark when I want to be. I don't like being picked up. I don't like harnesses. I don't like strangers in my house trying to pet me. I don't like the vet. I don't like you telling me that you're the boss of me. But for the right Chihuahua lover, I am a funny, loving little dude with a side of snark.

I am liking that Young at Heart is a FearFree™ facility, and I am responding well to being shown gently that I am ok when certain things need to happen - like I need to get a harness on for a walk, or I need to be picked up. I will do best in a home that believes in gentle, calm redirection of my naughty behaviors, and one that understands that an old dog CAN learn new tricks if you set me up for success. I'm making great strides here, but I will do much better in a home that is fond of a mighty and often very funny Chihuahua like me. I'm definitely not a pick for a home with little kids or lots of visiting kids, but I'm totally cool with hanging out in the bedroom when visitors stop by. There's that setting me up for success part of things, right?

I have met many dogs here, and I'm really hit or miss with liking other pups. I'd really prefer that just you and I hang out and play fetch together all day long! I forgot to mention that you'll need to supply me with LOTS of toys, because nothing makes me happier than playing! I love squishy toys and squeaky toys and tennis balls my size! I also love lap time, working for treats, and snuggly soft beds. I'm quite adorable when I'm on my very best behavior, which is more often than not. So, if you like a sweet old Chichi with a side of hot sauce, then fill out an app and ask to meet Rami!