Rizzo & Toby
Breed

Pug/Boston

Gender

Male

Age

9&12 years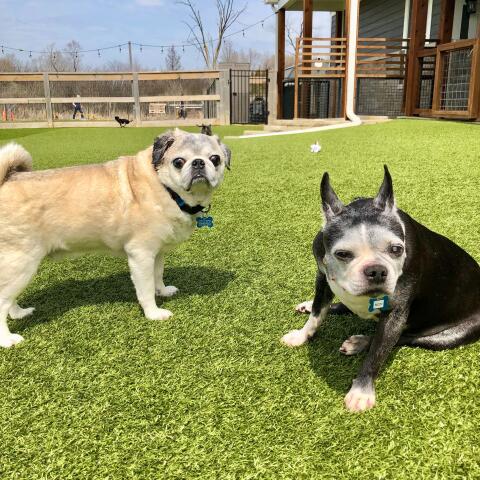 BREED: Boster Terrier (Rizzo) & Pug (Toby)
GENDER: Female (spayed) & Male (neutered)
AGE: 9 & 12 years
HOUSE-TRAINED: Yes
ANIMAL COMPATIBILITY: Laid-back dogs ok
KID COMPATIBILITY: Kids 8+
ENERGY LEVEL: Calm and loving, love walks and outings (Rizzo loves a stroller ride!)

Hi there! We're Rizzo and Toby, a very sweet pair of senior pups that can't wait to find a home of our own, one that will love and cherish us in our golden years. We came to Young at Heart when our previous guardians told their local animal control to take us or we'd be euthanized because they wanted to travel. They told animal control that we were just in the way of their travel plans. So much for all the love we had doled out to them over the years! So, you can see why we're SO happy to be with the nice people of Young at Heart now! We are two of the easiest dogs you will ever meet. I'm Rizzo, a 12 year old Boston Terrier, and I've lost most of my vision. It doesn't bother me much at all, especially once I know my surroundings. I happily use a "halo" to learn my environment, which is a device that allows me to bump into things safely without hurting my head or eyes. But now that I know my room and yard at Young at Heart, I rarely need to use it! And my "brother" is Toby, a 9 year old pug. He's a super laid back and friendly pup like me. We're healthy senior pups, we're housetrained, and we're both as sweet as pie. We really love each other, so we need a home that will adopt us both. Are you that special family that will keep us safe and loved in our golden years?