Shaggy
Breed

Shihtzu mix

Gender

Male

Age

13 years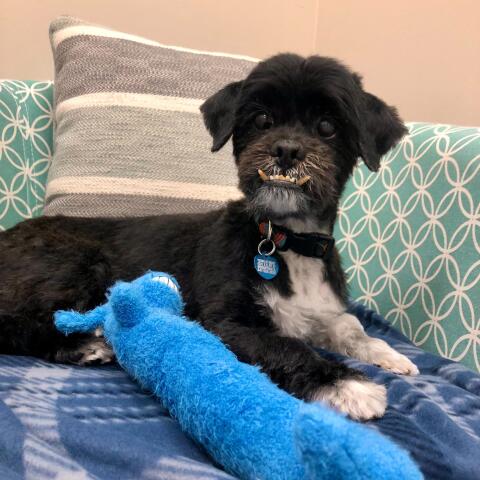 BREED: Shihtzu mix
GENDER: Male (neutered)
AGE: 13 years
WEIGHT: 15-ish lbs.
HOUSE-TRAINED: Yes
ANIMAL COMPATIBILITY: Laid back dogs ok
KID COMPATIBILITY: Kids 12+
ENERGY LEVEL: Mostly chill, but loves to play an easy game of fetch with his toys.
SPECIAL NEEDS: Prescription food to prevent bladder stones

Hi there! I'm Shaggy, and I am a Very Good Boy. I'm a 13 year old Shihtzu mix, and I am a sweet and gentle soul. And my teef add to my adorable charm! I love love love being around people, so I would make a great companion for someone who works from home or is retired, as that what will make me happiest. I'm also a good boy with other calm dogs about my size. I love getting brushed, petted, or just chillin' next to you on the couch while you read or watch tv. You name it, I'm there! Oh, did I mention butt skritches? Cuz am a HUGE fan off butt skritches. Hey, you wanted to know as much as possible about me, amiright? Butt skritches are a VERY important thing to remember! I am very eager to work for treats, and will happily show off my "sit pretty" trick any time you want. I can sit and give you my paw, too! I love my plush squeaky toys, and tend to choose a favorite and stick to it for a while. I'll even play a nice game of fetch with you! I love it! Whatever my current favorite toy is, you'll need to be ok with me bringing it home when you adopt me, ok? I'm a healthy boy since the rescue provided me with a much-needed dental after a surgery to remove very uncomfortable bladder stones. I just need to be on prescription food to prevent stones from ever coming back. Overall, I'm a laid back guy who just wants a home where I can be your BFF. Maybe you're the new family I'm waiting for?