Shelby
Breed

Lab/Pit/Beagle mix

Gender

Female

Age

8 years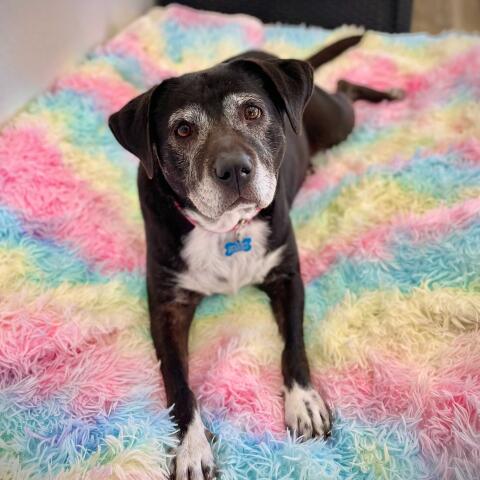 SHELBY
BREED: Lab/Pittie/Beagle mix
GENDER: Female spayed
AGE: 8 years
WEIGHT: 45 pounds
HOUSE-TRAINED: Yes
ANIMAL COMPATIBILITY: Dogs OK / Dog Savvy Cats OK
KID COMPATIBILITY: All ages
ENERGY LEVEL: Medium - likes to go for walks, play ball, but loves her quiet time.
Hi! My name is Shelby, and I am an adorable 8 year old mixed breed who cannot wait to find my new family! I came to Young at Heart with my sister from a previous life, Macy. We were originally thought to be a bonded pair because of me seeming to need Shelby, but it turns out any friendly dog will do! I just love having a canine friend to keep me company during those times when my people can't be home to give butt scratches. And, if you'd consider adopting my buddy, Macy, once she's done recovering from her knee surgery, I would have the best of all worlds!! Regardless, a home with another dog buddy is a must for me. I am the most "go-with-the-flow," easy-peasy dog. I am completely housebroken, I eat my meals right up, and although I am a bit shy at first, I get along with every person and dog. So long as they get along with me! I don't really "play" with my toys, I do enjoy having them around when the mood strikes, as I've been known to carry around a plushie or chase after a ball. I make no promises about the fetch part, though. I get excited for my walks and sometimes pull, but I do really well with a harness. I would love to join you on adventures around the neighborhood as we explore nooks and crannies together. I am a sweet, kind-hearted soul who just can't wait to find my forever home. Are you the one I'm waiting for?