Tippy
Breed

Newfie Mix

Gender

Male

Age

13 years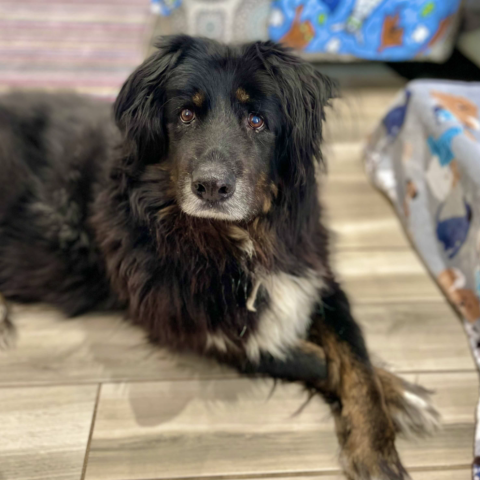 BREED: Newfoundland mix
GENDER: Male neutered
AGE: 13 years
WEIGHT: 85 lbs
HOUSE-TRAINED: Yes
ANIMAL COMPATIBILITY: Dogs Most OK/ Cats OK but excitable
KID COMPATIBILITY: Adults only
ENERGY LEVEL: Mellow - loves to walk and loves to chill

I see you've come upon my page, so let me make a proper introduction. I'm Tippy, a 13-year-old gentle giant ready to move into my forever home! Did you know that the name 'Tippy' comes from a Swedish nickname meaning "sweetheart"? That's exactly what you will get with me: a big, old sweetheart! I came to Young at Heart after my guardian passed away from cancer. It was a bit of an adjustment for me, as I was used to a quiet life with just the two of us, so I am now settled into a private foster home while I await my new forever home. I prefer an easy, slow-going life. I'm happy to lie on my comfy bed while you relax or work nearby, and when you're gone, I'll take the time to snooze. Going for my walkies is a highlight of the day, which can only be made greater when I get to meet new dogs while I'm out. I also enjoy breakfast time, treats after breakfast, toys with treats in them, treats for coming in after potty, dinner time, and — hold on, did I forget to mention treats? Either way, BIG fan of food. Not a big fan of hugs or people touching my paws, and I get a little exuberant around cats. Everyone has their quirks. This big body of mine comes with a lot of hair, which was horribly matted when I came in. I had to get completely shaved down to relieve the discomfort it caused. Regular brushing at home is to be expected to keep my coat healthy, clean, and mat-free. I love the pets & attention that accompanies the brush, so I won't put up much of a fight. I do take daily medication to help with arthritis, and you'll have to keep an eye on any new lumps or bumps that may turn up, as I had a mast cell tumor removed here at the rescue. But though my size and age may try to slow me down, I am Young at Heart! And I am excitedly anticipating what the future holds! Fill out an application and the adoption team can get the process started for you to meet me!