Winnie & Bleeker
Breed

Golden mixes

Gender

Male

Age

7 & 9 years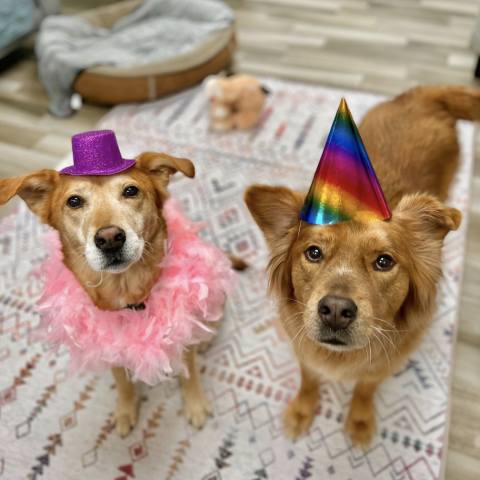 WINNIE & BLEEKER

BREED: Golden mixes
GENDER: Female (spayed) & Male (neutered)
AGE: 9 & 7
WEIGHT: 45-60 lbs.
HOUSE-TRAINED: Yes
ANIMAL COMPATIBILITY: Big dogs OK / Small dogs and cats NO
KID COMPATIBILITY: Older kids 12+, Bleeker is overly worried about smaller kids. They love big kids though!
ENERGY LEVEL: Fairly active outside, but usually calm and quiet in the house.
Hi! I'm Winnie, and this is my brother Bleeker. We are just the cutest senior dogs ever, and at the younger ages of 9 (Winnie) and 7 (Bleeker), we have lots of love left to give. Not only are we beautiful, but we are playful, too! When we're out in the backyard, we like to wrestle with each other. Being the younger one, Bleeker can get a little too pushy, but if I have had enough I have no problem putting him in his place! Brothers, am I right? We make all sorts of funny noises while playing and wrestling, which will totally crack you up. But when we are inside, we are quiet dogs who find our comfy spot and stick to it. And we really love it when we're allowed on couches! Plus, we're very good co-binge-watchers, and we don't make annoying comments during the best parts like some humans might.
In the house, we're quiet and polite, but Bleeker will be sure to keep us safe from the UPS guy. He is an alarm barker, so you'll always know when someone is at the door. And he has a big ol' WOOF that will make you feel safe! Me on the other hand, I'm just happy to be near you, wagging my tail happily. We have made great progress in our basic manners with all the fun people we get to meet here at Young at Heart, and have even learned a few tricks! I will admit that I am a much better student than Bleeker, but he tries. Sort of. We get along with other dogs our size, especially ones that can romp and play with us. We're not so great with smaller dogs. And, we think cats *might* taste like chicken if we could ever catch one, so... bigger dog buddies only for us!
We love love love to spend time outside, so a securely fenced-in backyard is a must, as Bleeker likes to run like the wind and I love to sunbathe in the soft grass. We would love a family that can give us the best of both worlds - a family who will take us on daily walks or let us run around in a bigger backyard but will also wind down at the end of the day for snuggles. We're healthy senior pups, too! I just take some daily meds for arthritis that keep me comfy and happy. Did I mention that we are the most beautiful pups, too? I am a Lab/Golden mix, and Bleeker is a Golden/Chow mix. We truly are the sweetest pair, and we would be a wonderful addition to your family. You won't find a sweeter, more fun duo than us! Help us find a loving home! ❤ Winner and Bleeker

Pair adoption fee: $350