Zena
Breed

Pug

Gender

Female

Age

13 years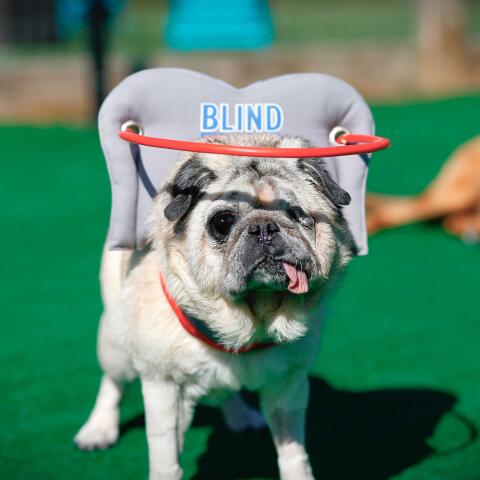 BREED: Pug
GENDER: Female spayed
AGE: 13 years
HOUSE-TRAINED: Yes/Crate-trained
ANIMAL COMPATIBILITY: Dogs OK | Cats OK
KID COMPATIBILITY: All ages
ENERGY LEVEL: Couch potato
SPECIAL NEEDS: Zena is blind

Yoo-hoo!! Calling all lovers of the chunky and funky! I am Zena, a 13-year-old pug who is so very sweet. There is not a single person who can resist smiling when I am in the room. Take one look at my squishy face, and you'll see why! I'm a laid back pug who gets along with most other dogs, as long as they are tolerant of me bumping into them from time to time, as I am a blind girl. I love love love to meet new people! I'd love a home where someone is home with us more than not, as that is what I was used to before coming to Young at Heart. I get around well with a "halo" and I do gravitate toward other dogs for guidance and comfort. My daily activities usually consist of cuddling on a big bed and snoozing to my hearts' content. Like all pugs, my cute little smooshed face also means that I make some seriously crazy breathing noises when I am excited, and I definitely snore. Sometimes I get playful and silly, wiggling my sausage body around excitedly. But nothing - absolutely NOTHING - is as good as MEAL TIME! I looove digging into our canned food-only diet. Some may call me a messy eater, but I prefer the term "food artist." Either way, clean up in aisle Pug! Honestly, I don't know what else to say to convince you. You either love me or… you love me - so fill out that application so you can come meet me! I really need a family to spoil us silly in my golden years. Are you my new family?