Zena & Zeus
Breed

Pug

Gender

Male

Age

13 years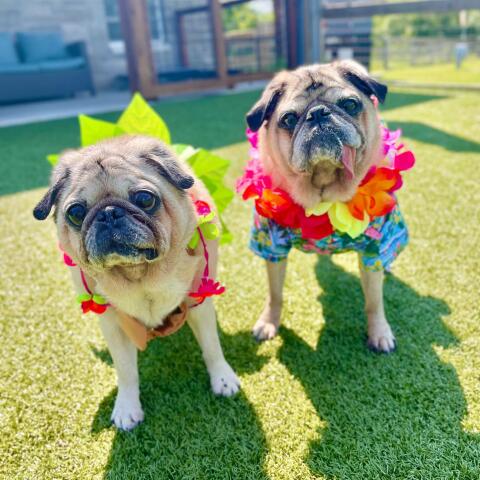 BREED: Pug
GENDER: Male neutered & Female spayed
AGE: 13 years
HOUSE-TRAINED: Yes/Zeus may need bellyband during transition/Crate-trained
ANIMAL COMPATIBILITY: Dogs OK / Cats OK
KID COMPATIBILITY: All ages
ENERGY LEVEL: Couch potato
ADOPTION FEE FOR PAIR: $350

Yoo-hoo!! Calling all lovers of the chunky and funky! We are the divine Zeus and delightful Zena, a pair of 13-year-old pugs who truly double the fun. There is not a single person who can resist smiling when we are in the room. It takes one look at our faces to see why! Between the both of us, we have only 2 teeth, 2 long tongues that dangle from the side of our mouths, 2 tummies that need rubbing, and 2 giant hearts waiting to pour their love into a new family. We have been together our entire lives and don't intend to change that up now. Both of us are laid-back pugs that get along with all other dogs, and love to meet new people! We'd love a home where someone is home with us more than not, as that what we were lucky to have in our previous home before our elderly guardians could no longer care for us. Our daily activities usually consist of cuddling on a big bed together, snoozing to our hearts' content. Like all pugs, our cute little smooshed faces also mean that we make some seriously crazy breathing noises when we are excited, and we definitely snore. Our new family will need to be extra careful to be sure we don't get too hot, overexerted, or overweight, as those things will make it hard for us to breathe. We are often caught giving each other a good tongue bath because that's just what siblings are for! Other times, we get playful and silly, wiggling our sausage bodies around excitedly. But nothing - absolutely NOTHING - is as good as MEAL TIME! We looove digging into our canned food-only diet. Some may call us messy eaters, but we prefer the term "food artists." Either way, clean up in aisle Pug! Honestly, we don't know what else to say to convince you. You either love us or… you love us - so fill out that application so you can come meet us!