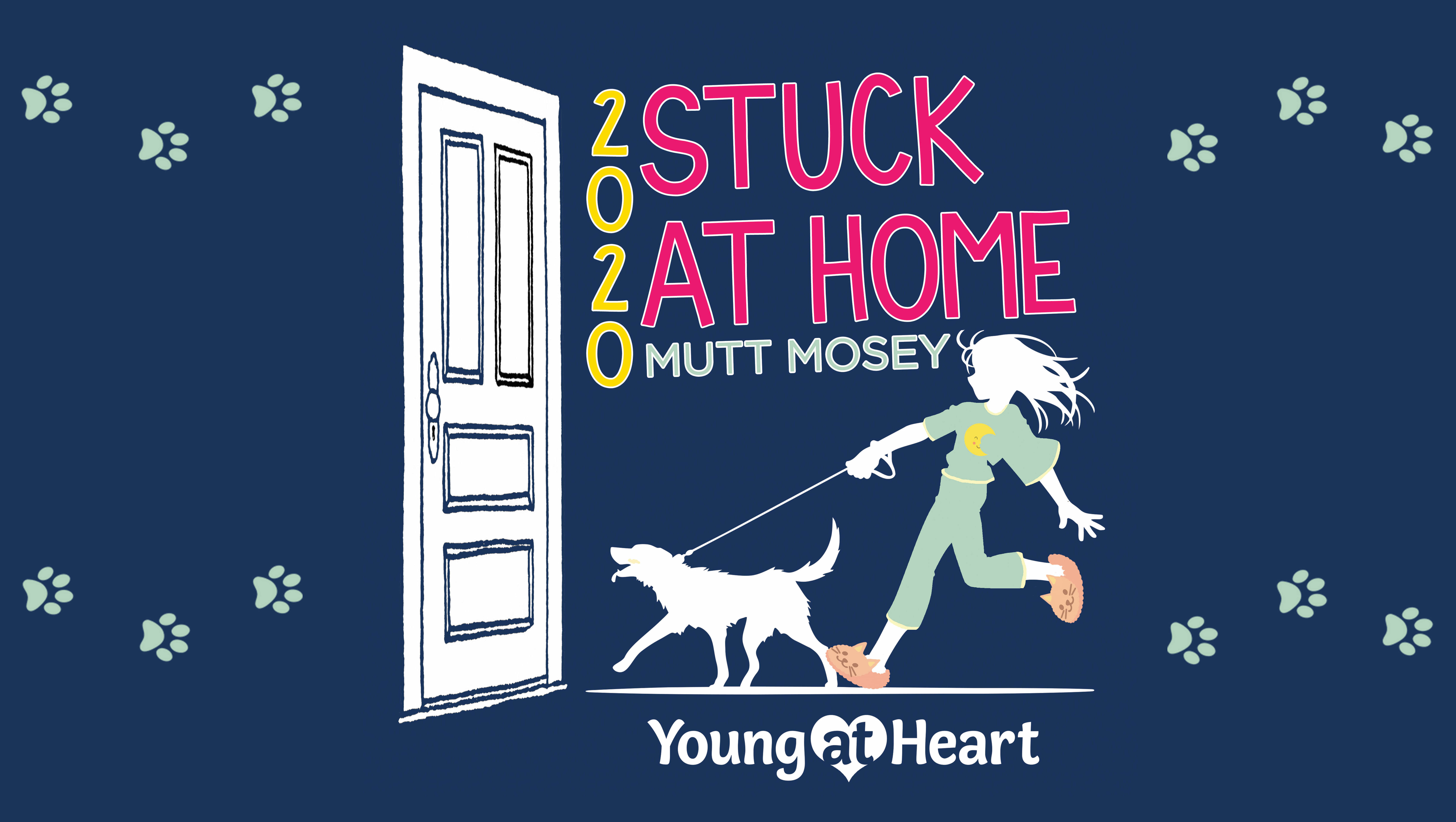 JOIN US FOR A VIRTUAL STUCK AT HOME MUTT MOSEY to celebrate 15 years of saving senior pets!
Young at Heart's annual Mutt Mosey fundraiser walk is back BUT it's a VIRTUAL Stuck at Home Mutt Mosey to support homeless senior pets during these difficult times! And you don't need to walk to join in - this year's Mutt Mosey is a You Choose-a-thon! Want to knit to support senior pets? Binge Netflix? Do Jumping Jacks? YOU decide how you will Mosey this year! And every dollar raised gives homeless senior pets a second chance to enjoy their golden years!

These are strange times that call for creativity, so let's have some fun together while we're all stuck at home! The Mutt Mosey is our biggest fundraiser of the spring, and we need your help to make it a success. We are busy preparing for the influx of animals that will sadly end up in shelters in the coming months, and we need your help to ensure that we have the funds to take care of the senior pets that will need us.

Registration fee is just $15 to help us celebrate 15 years! And if you raise $300 or more, we'll send you a Mutt Mosey swag bag!
Post pictures to social media with the hashtag #stuckathomemuttmosey! Tag us on instagram at @youngatheartpets! Not on social media, no problem! Just email photos and a description of what you're doing for your Stuck at Home Mutt Mosey to events@adoptaseniorpet.com

We hope you will join us and challenge yourself and your friends to raise some funds to give homeless senior pets the chance to enjoy their golden years!
The Stuck at Home Mutt Mosey ends May 2nd, 2020 at 6pm CST. All fundraising tallies will be counted until then, and the winners will be announced shortly thereafter. T-shirts for participants that raise $100 or more will be mailed out after the close of the event. Thank you for saving senior pets while you're Stuck at Home!