The Story of How It All Began
It all began with a group of people who loved animals. But in particular, the older animals:  Dogs who had a little grey around the muzzle, but whose hearts were young and whose love knew no bounds. Cats who lounged around, pretending to be hard of hearing, until the whir of the can-opener proved otherwise.
These animals had once been loved, cherished, and part of a family- until one day they were no longer wanted. Often, an older dog or cat sits patiently in a shelter, awaiting a soft voice, a kind hand, or even a friendly glance. They sit and wait, often scared, often depressed, and almost always overlooked by potential adopters.
Passed by for younger dogs and cats, these pets are often just what an adopter is looking for – quiet, calm, housebroken, good with kids, affectionate and easily acclimated to a new home. Yet, they sit and wait for someone to love them, until many times, it is too late.
In April of 2005, Young At Heart Pet Rescue was formed to aid in the rescue and rehoming of older dogs and cats in the Chicagoland area. The animals we rescue come from open-admission shelters with high euthanasia rates for older animals or from situations where a guardian has passed away or been admitted into nursing care. Young at Heart's mission is to provide senior dogs and cats with a safe haven to ensure they live with comfort, compassion, and companionship in their golden years.
Each dog or cat that we rescue receives the best veterinary care, and we do not turn away animals that need a little extra medical attention. All of our pets are vaccinated, tested for infectious diseases, microchipped, spayed/neutered, receive a geriatric screening, and most receive a dental. We also provide other treatments to enhance any senior pet's adoptability- we have lumps removed, even if they are benign. We treat allergies, heartworm, thyroid ailments, provide prescription food. We do whatever it takes to help senior pets find their forever homes. And when their medical needs prove to be too daunting to our adoption program, there are not euthanized at Young at Heart. They find their happily ever after in one of our licensed Sanctuary Homes, where they are loved and cared for like one of the family while we provide all their medical care.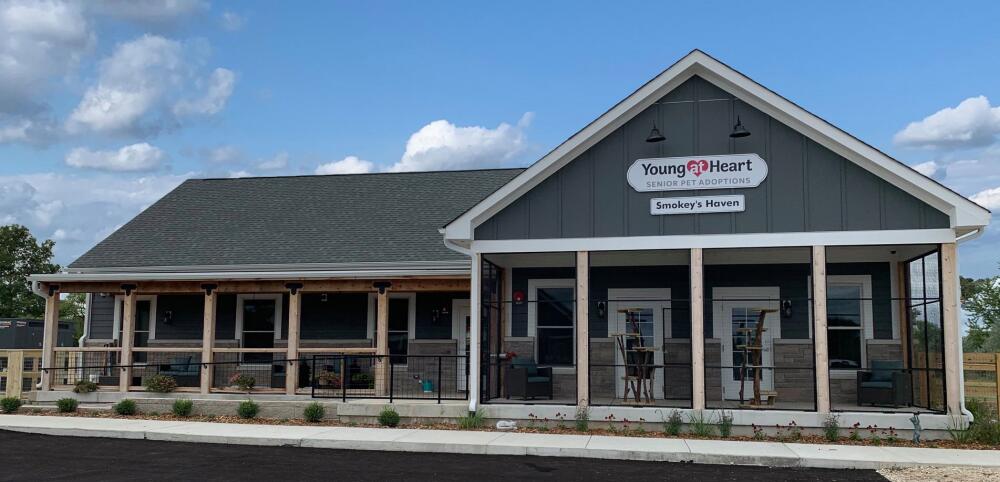 In September 2019, Young at Heart opened the doors to our brand new adoption center for senior pets! It's a place where more dogs and cats get a second chance at a loving home, a place where age is just a number, and a place where the care and comfort of those with greyer muzzles and stiffer joints than their younger counterparts come first and foremost. A place where all senior pets can find their happily ever after.
We are a non-profit 501c3 volunteer-based organization that operates with a small army of dedicated volunteers. We receive no federal or state funding, and rely solely on the generosity of pet-lovers like you, fundraisers, and grants to support our mission and our rescued animals. Consistently support our work by becoming a Constant Companion monthly donor!